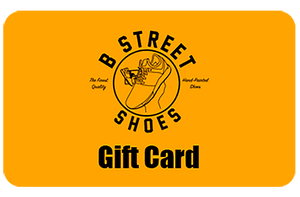 B Street Shoes Gift Card ( Digital )
Regular price $ 10.00 Sale
Looking to give someone a one of a kind gift? Give them the choice to choose a design of their choice or to use toward a custom order! :)
How it works: 
Select the amount you'd like to purchase and checkout. 
You will receive an email for a unique code within 24-48 hours.
How to use:
Simply input the unique code at checkout.
The amount never expires so your recipient can take their time in selecting the perfect pair of kicks!
--------------------
Not sure how much your recipient will need for a custom order? Generally a custom order starts at 499.00 + cost of the shoes ( ex. Custom AF1 low = 499.00 + 90.00 = 589.00 ).
The customization can range from 499.00 - 799.00 depending on how complex the design is. ( ex. if the design calls for realistic portraits vs a pattern )
When it comes to custom orders, all pricing is discussed during the discussion/design process and agreed upon before proceeding with an order.
Feel free to message us if you have any questions!