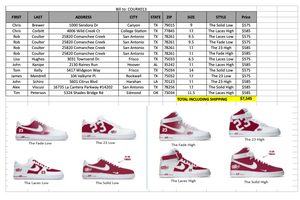 13 Pairs of Custom Shoes - Custom Order
Regular price $ 2,608.50 Sale
This invoice is a 50% deposit invoice for 6 pairs of custom Dr. Pepper themed Nike High Tops and Low tops. 
6 pairs of Low Tops @ $389ea. = $2,334
7 pairs of High Tops @ $399ea. $2,793
Grand Total: $5,127
50% deposit invoice: $2,608.50
Remaining balance of $2,608.50 will be billed when shoes are complete. 
Information to whom the shoes will be shipped is shown in the images below. 
Products shown are at full price. Discount on these products will be included when placing a bulk order. 
*B Street Shoes will source shoes from Nike.com
**Taxes and Fees included in price shown
***Design is 100% permanent and will not scuff, chip or fade
****Free USPS Priority Mail shipping included.