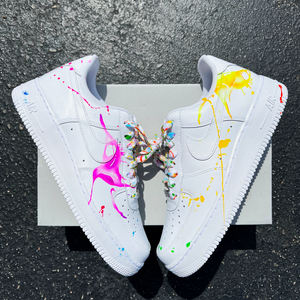 Custom Nike Air Force 1 - Artistic Paint Splatter
Regular price $ 609.00 Sale
 This design incorporates a fun artistic splatter along with some colorful customized laces. Due to the random nature of doing a splatter design and each pair being handpainted, each pair will vary slightly making every pair unique!
These af1s are customizable! If you'd like this design painted in a different color, just add it in the notes at checkout!
If you like this design but want a different base shoe or you're looking for something different, you can fill out a custom request form here.
-------
Paint is 100% permanent and will never come off.
Price included shoes and artwork.
Made in the USA
Please message me with any questions. Thanks for stopping by my shop!
-Blake Barash
@bstreetshoes