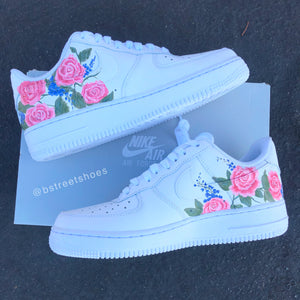 Custom Painted Pink Rose Nike Air Force I
Regular price $ 589.00 Sale
These shoes are the all white Nike Air Force 1's hand painted with pink wedding roses on each shoe. The inside and outside of each shoe will have pink wedding roses  starting at the heel and continuing halfway down the shoes.
These shoes are customizable! If you'd like this design painted in a different color, just add it in the notes at checkout!
Paint is 100% permanent and will never come off. Price included shoes and artwork. Made in the USA. A longtime artist, I can do custom artwork as well.  

So if you have specific design you need, please sent me an email to discuss it!
When ordering please provide in the buyers notes anything else you may want on your shoes!

Please message me with any questions.
Thanks for stopping by my shop!
Blake Barash
@bstreetshoes