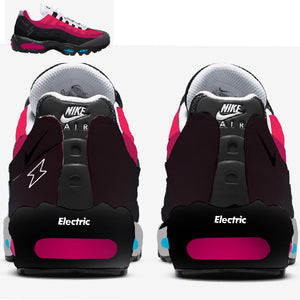 Nike Air Max 95 - Custom Order - 5 pairs - Invoice 1 of 2
Regular price $ 1,312.50 Sale
 Details:
This order is for 5 pairs of Nike Air Max 95
three pairs - size 10.5 mens - Ship one pair to Julian Hutchinson, 2 pairs to Siovhan Christensen

one pair: size 9.5 mens - Ship this pair to Ryan Denehy

one pair: 9 mens - Ship to Siovhan Christensen

shoes are to be painted exactly to agreed mockup as shown in the product image. 
Possible Electric colors on the AirMax log on the tongue. To be decided when the shoes arrive at the Shoedio. 
Original pricing per pair: 669.00
Discounted Pricing per pair: 525.00 
Total: 2625.00 USD 
50% deposit due: 1312.50 USD
Shipping addresses:

Electric - Siovhan Christensen (2 pairs Men's 10.5 & 1 pair of Men's size 9)
408 Broadway
2nd Floor
New York, New York, 10013
Ryan Denehy (Men's size 9.5)
200 W Houston St
Apt. 1B
NY, NY 10014

Julian Hutchinson (Men's size 10.5)
21 Saint Pauls Court
Apt. 5D
Brooklyn, NY 11226