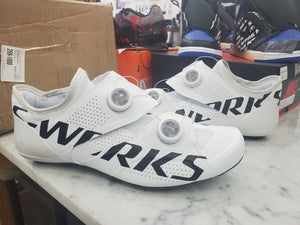 Private Invoice for Mike
Regular price $ 200.00 Sale
This is a private invoice for Mike Faello in regards to his custom cycling shoes.  Cycling shoes have been dropped off by the client and this price is only for the artwork.  Mike will pick up the shoes from our Shoedio and has also offered special networking opportunities through his work "with one of the artists [he} works with on concerts next year...[as he] could promise 2 comps and all the perks that go with [his] position."  
The paint is 100% permanent and will never come off.
Price includes artwork.
Made in the USA.
As a longtime artist, I can do custom artwork as well.  
So if you have a specific design you need, please sent me an email to discuss it!
When ordering please provide in the buyer's notes anything else you may want on your shoes!
Please message me with any questions.
Thanks for stopping by my shop!
Blake Barash
@bstreetshoes